Help Us Build a Brighter Tomorrow
A Culture of Innovation


Hope is constantly evolving. Our desire for innovation stems from the
ever changing dreams we have for people with intellectual disABILITIES. The more
we learn, the more our services and supports change to empower, respect, and
reflect the goals of those with disABILITIES.
8
COUNTIES SERVED IN CENTRAL PA
70 Years
DRIVEN TO INNOVATE AND HELP INDIVIDUALS WITH INTELLECTUAL DISABILITIES LIVE THEIR BEST LIVES.
8
LIFE SUPPORT SERVICES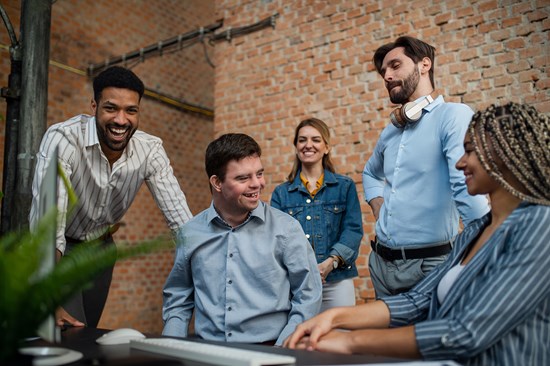 The Power of Advocates
In 1952, it was innovative to create a school for individuals with intellectual disABILITIES. But times change, and we realize we can do better. Each innovation helps us see the next opportunity to evolve and improve. That's what we've done for 70 years. And it's our promise for the future.
A History of Innovation
As we celebrate seven decades, we're grateful for where we started in 1952. Even more, we're proud of how far we've come today, and are eager to continue stepping outside of our own box to understand what's limiting those with disABILITIES in our communities.
Hope for the Future

We promise to continue leading the innovative thoughts and actions that empower people with intellectual disABILITIES to live their best lives.
Here are our Hopes for 2022 and beyond:


Hope is very good to its employees and very generous with our benefits. I was planning on retiring but still love my job after almost 8 years - Hope is the most rewarding job I've ever had!

Nancy Shires
CHOICE Services
Direct Support Professional



Hope Enterprises has many amazing things to offer. Too many to list in fact. One that is worth sharing and that is always a top priority across the Enterprise, "is valuing what is important to our folks." Not our individuals, not our consumers, not our residents, but "our folks," because it's more personal than that.

Heather Mckeague
Residential Services
Program Specialist



As a teenager I remember driving by the Hope Enterprises building in Danville thinking I am going to work there someday. Once I graduated from college, I began my career as a DSP. Throughout the past 6 years, I've had the opportunity to work with various individuals and assisting them in all aspects of their lives. Now as a CHOICE Services Supervisor, I get to be a part of developing a new program to best serve and support our individuals and their choices.

Angelina M. Smith
CHOICE Services
Supervisor
Join Our Team

Join us in positively impacting those in our community with intellectual disABILITIES.