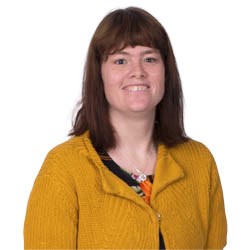 Andrea came to Hope Enterprises three years ago. She was in her late twenties and living with her parents at the time. The staff at Hope thought their Community Supports Program would be the perfect fit for her, and they were right.
Amber, Andrea's Hope companion is also one of her best friends, and one of her sponsors for the Special Olympics. Andrea is a competitive young woman who likes to win, so she competes in several different sports, including bowling, bocce and the 800m with her walker. In addition to participating, she also enjoys going to the Pennsylvania state games at Penn State to watch many of the Special Olympic sports. Swimming is one of her favorites.
Aside from her involvement with the Special Olympics, since joining the Community Supports Program, Andrea has moved into her very own apartment in the Trinity House with her gray and white cat, Tom. Trinity House is an independent living facility with 11 apartments. She loves living on her own, especially because she says all of her friends live at the Trinity House, too.
Hope was also able to help her prepare for, and find, her full-time job with SunComm Industries, where she packs plastic silverware. Andrea says her job has taught her to stay on task and focus. But her favorite part is earning a paycheck that she's able to use to spend on some of her favorite things, like going to the movies, shopping and getting her nails done.
For every disability, there is a HopeAbility. Andrea was able to gain the HopeAbility of independence through the Hope Community Supports Program.
Community Supports Program (CSP)
Self Help/Self Care
Socialization
Recreational Activity
Coping
Communication
Relationship Development
Use of Community Resources
Activities of Daily Living
Learn more about the Community Supports Program (CSP).
Let us help you find your HopeAbility. Call us at 800-326-9712.