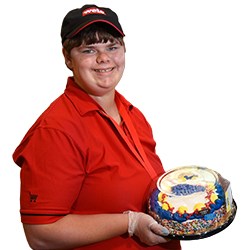 For Chasity, some of the most important things in life are her family and her many animals. Fortunately, she gets to enjoy time with both. She lives in Mt. Pleasant Mills with her Uncle Bill and Aunt Robin as well as her dog, Bozley; five goats – Bucky, Izzy, Daisy, Lilly and Violet; and five cows.
A 2013 graduate of Selinsgrove High School, Chasity went on to complete the Central Susquehanna Intermediate Unit's Work Foundations Plus Training Program, the following year. Her education and participation in Hope's Community Employment Services and Community Supports Program have helped Chasity gain the life skills to be able to find and work a job she enjoys. With Hope's support, she's also learned how to drive, how to cook, how to manage money and how to care for her animals.
Since 2014, Chasity has been a part-time employee of Weis Markets in Selinsgrove. Her first job was working in the store's floral department. A diligent, highly regarded employee, Chasity showed a knack for making floral arrangements. She was also asked to train the supermarket's front-end associates in how to properly fill balloons with helium. Later, Chasity moved to the store's bakery in a position that also allowed her to express her creativity through decorating baked items.
With the money she earns, Chasity enjoys shopping at Walmart and thrift stores, and is able to pay for the gas she needs for her car.
Chasity is able to drive, work a job she loves, and properly care for her many animals. Independence – that's Chasity's HopeAbility.