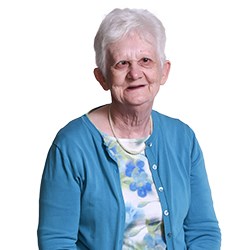 Mary Rose lives with two roommates in a Hope community home in Lewisburg, where staff support her in her activities of daily living, take her on community outings, transport her to medical appointments, and encourage her to do what she is capable of doing for herself.
One of Mary Rose's accomplishments is working as a volunteer at RiverWoods, where she helps in the cafeteria. On days when she's not at RiverWoods, Mary Rose attends the Alternatives to Work program at SUNCOM Industries in Northumberland.
Mary Rose loves animals and anything having to do with them. She also likes dining out. When she's at home, she enjoys watching television.
Previously involved with Hope's Lifesharing program and now a part of a community home where staff members help her achieve new goals, Mary Rose is able to live her everyday life better and more independently because of the support she receives from others.
Living her best life within her community – that's Mary Rose's HopeAbility.