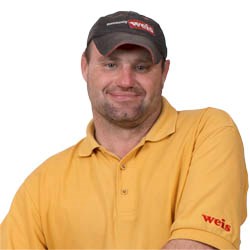 Paul came to Hope Enterprises 20 years ago. Before he came to Hope, he was unemployed, and not very outgoing. The staff at Hope thought the Community Employment Services Program could help Paul get a job and gain confidence, and they were right.
Paul hit the ground running and hasn't stopped. In his very first year with Hope, he began a job with Bowser Manufacturing. From there, he moved on to Pizza Hut. And in 2004, he began his job at Weis Markets as a porch clerk, which means he assists customers with loading their groceries into their cars.
His extensive work history has allowed him to earn a paycheck, and, in turn, purchase his own car and rent his own apartment. He has become self-sufficient and independent.
In addition to his independence, his shyness has been transformed. Paul does not hesitate to approach customers to help them with their bags, or just to start a friendly conversation.
For every disability, there is a HopeAbility. Paul was able to gain the HopeAbility of being self-sufficient through the Hope Community Employment Services Program.