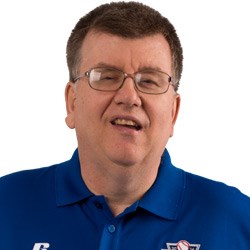 Anyone who knows Peyton "Pedie" McDonald knows he's never missed a game of the Little League World Series. Not only that, but he's never missed a day of work or classes since he began his pre-vocational training at the Industrial Work Center in 1981.

Pedie attends food services classes where he learns basic kitchen skills. Most recently, he was proud to have helped make chocolate chip cookies. With the help of his teachers, he's been learning many other work-related skills. His favorite task is pushing the snack cart throughout the building. He is responsible for knowing the prices of the snacks on the cart, taking money and giving change. It gives him the opportunity to work on his social skills and help others.

Being involved with Hope has helped him excel in other areas of life as well. Since coming to Hope, he now knows how to ride the bus to work on his own. He also assists and supports the Loyalsock Township Little League team, who have lovingly named their field "Pedie McDonald Field." Pedie has been recognized throughout Williamsport for his positive attitude and desire to help others.
Let us help you find your HopeAbility. Call us at 800-326-9712.