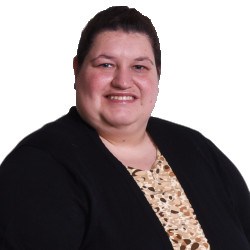 Working with Hope Enterprises has helped Stacey succeed at her job and gain the independence to live on her own with a roommate.

Stacey is a prep cook at Applebee's restaurant, where she has worked for the past five years. With money earned from her job, Stacey enjoys buying things for her apartment and going out to eat. She also budgets to provide for the needs of her cats, Cindel and Licorice. An animal lover, Stacey also has two hermit crabs, Houdini and Phantom.

Stacey attended Bloomsburg High School, then enrolled in the culinary arts program at Columbia Montour Area Vocational-Technical School, where she graduated in 2005. She went on to complete the culinary arts program at the Hiram G. Andrews Center in Johnstown in 2006. Stacey received a recognition award from SUNCOM Industries in 2017 for her employment success.

Stacey plays bocce in the Pennsylvania Special Olympics and has an interest in track. She enjoys spending time with family and friends, reading, listening to music, and working with friends on model ships of the Titanic.

Recently, with the help of Hope's Community Support Program staff, Stacey studied for and passed the exam to receive her Pennsylvania learner's permit and is now learning how to drive. She is also working to increase her reading skills so that she can enjoy more books that interest her.

Increasing her independence with the support of Hope staff is Stacey's HopeAbility.