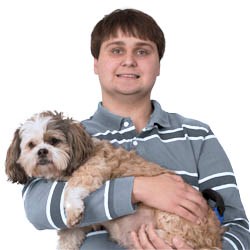 Nolan came to Hope Enterprises over 11 years ago. Before he came to Hope, he was unemployed and searching for ways to do what he loves, spending time with animals. The staff at Hope thought the Community Supports Program could help Nolan find an opportunity for him to pursue his passion, and they were right.
Nolan grew up on a farm and has always loved spending time with animals. Ken, Nolan's Hope companion, contacted the SPCA to see if there would be an opportunity for both of them to volunteer. They were in luck. Nolan enjoys helping with a variety of tasks, including cleaning floors and windows, playing with the dogs, and setting up obstacle courses; but his favorite is teaching the big dogs to do tricks.
In addition to volunteering with the SPCA, Nolan was also able to dedicate time to caring for animals through a volunteer opportunity with the Leighow Clinic. When a paid position became available, Nolan applied and got the job. Now he gets paid to do what he loves.
With that paycheck comes a whole new level of skills. Nolan's math skills have improved as a result of budgeting and shopping for new books and movies to add to his collection.
For every disability, there's a HopeAbility. Nolan was able to discover the HopeAbility of pursuing his passion through the opportunities provided by the Hope Community Supports Program.
Community Supports Program (CSP)
Self Help/Self Care
Socialization
Recreational Activity
Coping
Communication
Relationship Development
Use of Community Resources
Activities of Daily Living
Learn more about the Community Supports Program (CSP).
Let us help you find your HopeAbility. Call us at 800-326-9712.