Hope Golf Tournament
24th Annual Event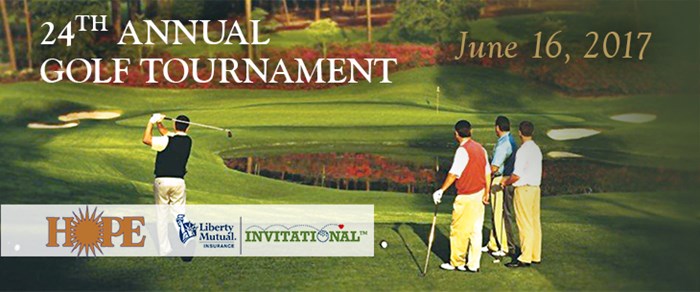 Each year, Hope hosts an annual Liberty Mutual Invitational Golf Tournament at White Deer Golf Course in Montgomery, Pennsylvania. All proceeds from this event go toward enhancing our programs and facilities so that we can give individuals with disABILITIES the support and care they need.
Our 2017 Tournament was dedicated to the memory of Peyton D. McDonald as a celebration of his life and tireless commitment to serving Hope for more than 46 years and a remembrance for his love of the game.
Liberty Mutual Invitational Event
Hope's golf tournament is one of only two Liberty Mutual Invitational events in the state of Pennsylvania. These golf tournaments involve a series of nationwide amateur, charity golf tournaments. Grand prize winners earn an invitation to compete at the Liberty Mutual Invitational National Finals in March 2018 at Kiawah Island Golf Resort, Kiawah Island, SC.
The tournament could not have been a success without our many generous sponsors. Hope would like to extend our thanks to each of our sponsors at every level.

Learn More
Donate
The 2017 Tournament is Over, But You Can Still Help
If you were unable to participate in this year's tournament but would like to support Hope's programs and facilities, you can still make a secure donation online.
Hope Would Like to Thank Our Sponsors
The Hope golf tournament would not be possible without the help and support from many individuals, businesses, and organizations. We would like to thank
our sponsors
for their generous support!