Host Your Own Fundraiser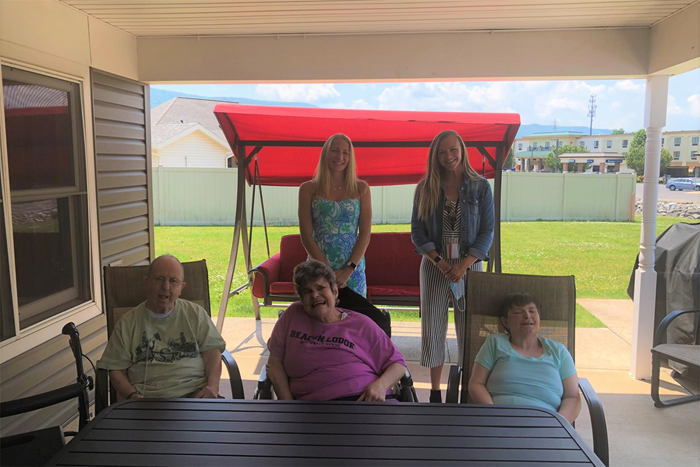 Raise money your way to support Hope's mission
Love bake sales, auctions, dinner parties, etc.? The Hope Enterprises Foundation gives your passion a purpose by allowing you to host a fundraiser to support individuals with disABILITIES.
Here are a few ways you can help Hope:
Host a party with a purpose
Honor a loved one with a disABILITY
Remember a loved one with a disABILITY
Host a cycling event
Hold a bake sale or yard sale
Here are some past fundraisers that have supported Hope's mission.
Running for a Cause
Lewisburg High School senior, Delaney Humphrey, recently supported the Hope Foundation by raising funds and hosting a "Run for a Cause". Delaney donated close to $800 and visited our friends at our Nottingham residential home for a picture (seen above). Thank you Delaney for your support of Hope!
Susquehanna Valley Big Twins Motorcycle Club (SVBT)
Susquehanna Valley Big Twins is a non-profit organization that is dedicated to giving to those in need. Throughout the years, they have supported a number of organizations and Hope is proud to be one of them. Dating back to 2006, SVBT has donated over $10,000 to support our residential homes.


Orelli's Wildlife of Autism Safari Soiree
The Wildlife of Autism, LLC is a small, family-run business that was started to support Austin Orelli and his artwork. In April they are hosting a Safari Soiree fundraiser to support Hope's Children's Development Center and their upcoming wellness program. The event raised $7,500 towards educating people with disABILITIES on things such as money management, health, social interaction and more.
For more information about the event, click here.
If you are interested in hosting a fundraiser to support Hope's mission to enhance the lives of people with intellectual disABILITIES, please contact Mackenzie Howe at [email protected].
Create a Facebook Fundraiser
Facebook provides an easy way to support causes you care about. Facebook fundraisers are simple to set up, cost you nothing, and allow you to connect friends and family with your cause. Plus, 100% of the donation makes it way to Hope!
To support Hope with a Facebook Fundariser, be sure to indicate Hope Enterprises Foundation as your charitable designation.
Visit the Facebook Fundraiser page to get more details or start raising money today.